This morning we woke up to 50 degrees, rain and clouds. Not what we usually have in mid-June. It is welcome however. Any rain is good rain when you only get 8-9 inches per year. We have had an unusually cool and wet spring and that has the plants at least two weeks behind schedule. My english lavenders are now just coming into bloom. No full color yet, just small blooms.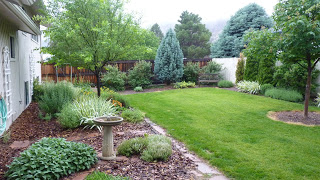 I should be enjoying that sublime chore of harvesting the lavender stems in the early morning while the color and oils are at their best. Then I would put them in bunches and hang them in my crawl space for a week or two to dry. I guess I'll have to wait another couple of weeks. Sigh…….
One thing I can harvest now is my beautiful berggarten sage. It is very different than the basic culinary sage plant and that's a good reason to consider it for your garden. The leaves are large and a beautiful shade of silver. They have a stronger flavor than the basic culinary sage so you use less of it.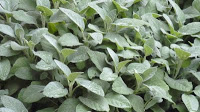 Berggarten sage leaves
The plant never blooms so there is no flower stalk to cut off. The
plants stay very compact and tidy. If I didn't use this sage for
cooking, I would consider it for my landscape because of its
growing habit. The only pests I have noticed are earwigs which
are minimal.
In the photo below, there are three plants which are approximately 4 years old. Very hardy and a great addition to any garden.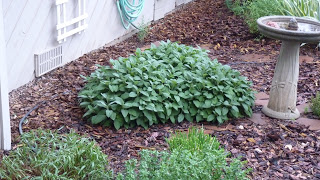 Berggarten sage plants (3)
Looking forward to warmer weather soon. Our farmers markets are beginning to have lots of early fruits and veggies. Cherries will begin to show up this week. Can't wait for that.