One of the many projects I worked on this summer is the creation of a huge planter box. It now resides where 3 large butterfly bushes used to be. They were 12 years old and died last winter. I was sorry to see them go but I always say when something dies in your garden it's just making room for something new!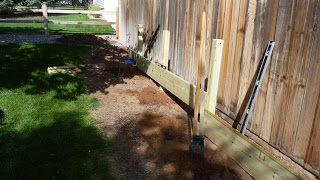 Here is the humble beginnings of the planter box.
My friend Sherry helped with every aspect of this project. From looking at the initial drawings in Master Gardener class, to measuring the space, going to Home Depot to help pick the best pieces of lumber and several long days actually putting the box together.
The dimensions are 20′ long by 2′ wide. There are 3 sections to the box. The middle section is 4′ tall while the sides are 3′ tall. The box is made with treated lumber that was very green when I purchased it.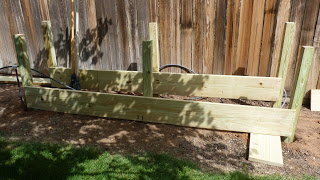 Progress is made. The fresh wood is extremely heavy!
It took several weeks to finish the project but I learned a whole lot of new carpentry skills from Sherry. I also learned how to use a reciprocating saw. Very dangerous but lots of fun. We also used my brand new circular saw. Sherry ripped at 10′ board with such precision! I was amazed. Maybe one day I can be as good as she is with power tools!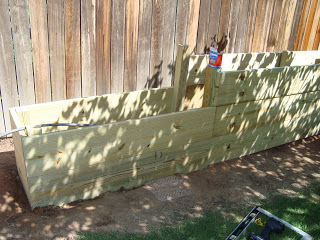 Our box is getting higher and higher.
We had to make adjustments for the slope of the land so the height of the box is much higher on the north side than I had anticipated.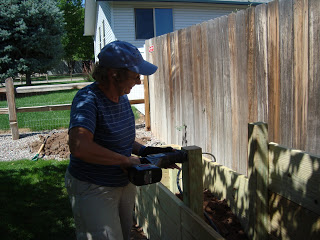 Sherry – Master Gardener and Master Carpenter
So, without further adieu, here is the finished planter box.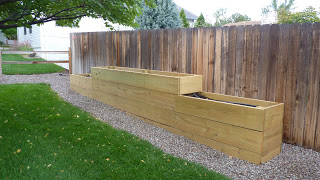 It's filled with excess gravel from another spot in the yard, grass clumps from my neighbors Phil and Tracii, homemade compost from my compost bin and some top soil for the very top 6-8″.
Next spring I plan on painting it – maybe a dark brown or cobalt blue. Because its treated lumber, I need to let it age before I paint. I look forward to using plants that will drape down the sides. I don't have any walls in my landscape so this will be a new opportunity to plant something new. Annuals, perennials, herbs. The possibilities are endless. But again I will wait til Spring. That gives me all winter to dream and design.
If you have any ideas for the box, please send me a comment. I'd love to hear from you. Bye