Struggling to find that perfect gift for someone? Why not give the gift of garden design. One of the most satisfying things I do at Garden Scentsations is consult with homeowners about what their landscape could become. I love to show people how to transform their current landscape into something they can really enjoy and use year round.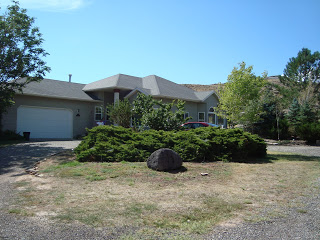 Before the island was an eyesore
In my latest project, we took a very visible island bed in front of the house from overgrown junipers, weedy grass and dead aspen trees to a beautiful landscaped bed with water wise plants, decorative boulders and a winding flagstone path.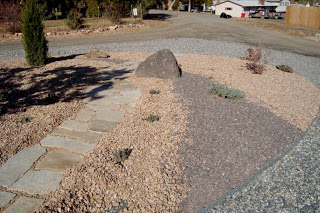 Now it has curb appeal and interest
We used two colors of 1″ granite rock. Tan for the majority of the bed and Purple LaSal to highlight the large basalt boulder and to make a "swoosh" in the center of the bed.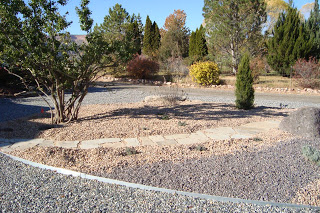 Finished island bed
This project was completed just a few weeks ago and there will be more planting in the Spring. Some of the plants we used were lavender (big surprise there right!), agastache, mojave sage, coreopsis, Blue Mist spirea, upright juniper, serviceberry, Kannah Creek buckwheat, Powis Castle artemesia and California fuschia or zauschneria. These plants are all water-wise, deer and rabbit resistant. They will provide color and interest year round with very little maintenance.
If you have a spot in your yard that could use a little more curb appeal, give me a call. I would love to give you some good ideas and take your landscape to the next level. If you are interested in giving a Garden Scentsations gift certificate this holiday season, please give me a call. My hourly rate is $40 with a two hour minimum. We can solve a lot of problems and find lots of solutions in two hours!
I hope you have a great holiday season with family and friends.