I have been enjoying the holidays at my parents' home in Sarasota for the past few weeks. We drive down from Grand Junction every year so we can bring our beloved dog Molly Brown. We leave Colorado when winter has a firm grip on the area – no leaves on the trees, no flowers anywhere. Traveling through New Mexico, then Texas reveals green grass in Wichita Falls and roses blooming in Houston. Driving on to Louisiana, Mississippi and Alabama, we see more green, more flowers.
When we arrive in Sarasota, which is about one hour south of Tampa on the Gulf of Mexico side of Florida, we were greeted with a delightful scene. Countless shrubs and flowers in full bloom, graceful palm trees and green grass! The star attractions are bougainvillea, hibiscus and Cape Plumbago.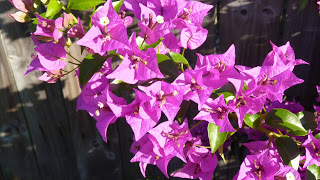 Fuchsia blooms on bougainvillea in my parents' backyard.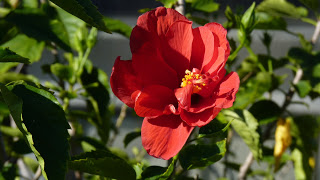 Orange blossom of tropical hibiscus.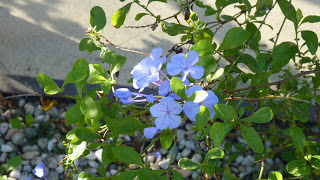 Delicate blue color of the Cape Plumbago
Mom has also planted several pots around the pool with colorful annual flowers. Petunias, marigolds, salvia and kalanchoe. What a beautiful sight to see everyday.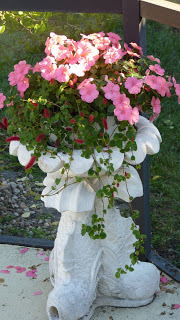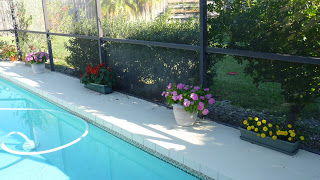 I also had a chance to replant an area that was overgrown with ferns and ginger plants. We replaced those with Ixora, a beautiful low care shrubs with beautiful salmon colored blossoms and glossy green leaves. We also added an additional cardboard plant to beef up the existing cardboard plant.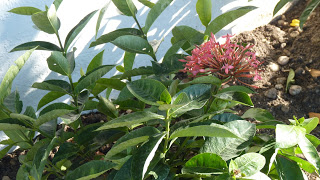 Ixora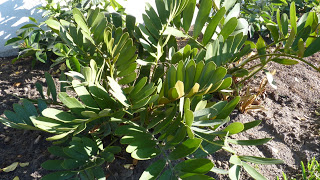 Cardboard plant
We love to come to Florida every year to see family but the gardener in me enjoys the blooms and colors every bit as much. Its such a joy to see the happiness my Mom gets from maintaining her garden and the pleasure it gives everyone around her. I think she passed on her "gardening gene" to me. Thanks Mom.