I love living in Colorado because I can walk in any forest or garden and find the most beautiful cones in the world. We have all sorts of pine cones – scotch, ponderosa, mugo and white to name a few. Then we have fir cones from the majestic Douglas firs and spruce cones from the iconic Colorado Blue Spruce. I have been collecting all of these cones from our many trips to the mountains around Western Colorado. Recently we were in Rocky Mountain National Park and I found gorgeous Ponderosa pinecones. Up on the Uncompaghre Plateau, Grand Mesa and San Juan mountains there are fir cones. Spruce cones are easy to find up in those mountains as well.
In my own yard, I have three types of spruces – columnar, globe and RH Montgomery, an Austrian pine, three different types of mugo pines – dwarf (which really isn't), pumilo and Slow-Gro, and two scotch pines – Hillside Creeper and Arnold's Sentinel. They are a great source to feed my obsession with cones of all types. The texture and smell of these cones make me want to touch them. I have also added a few dried seed heads from the evening primrose.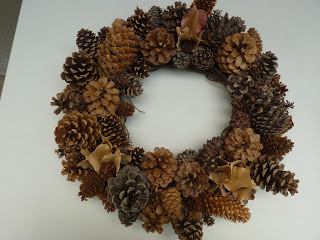 Beautiful wreath with assorted cones – approx 16″ across
I have been creating pinecone wreaths for years for myself and friends but came up with an idea to really add elegance and shine to them. When I entertain or have a special dinner with my husband, I like to bring out the good china. We have two sets, one from my great aunt Honey with gold accents, and one from our wedding with silver accents. I like to have a special centerpiece that adds sparkle and shine. So I added sparkle and shine to my plain pinecone wreath and Viola'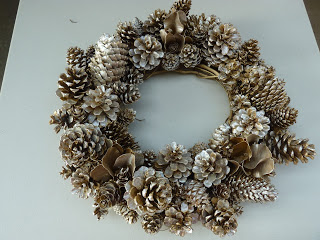 Champagne Shimmer Wreath in 16″ size
I am going to add some beautiful candles to the center of this wreath and have a glamorous centerpiece with lots of shine, texture and Colorado beauty. These can also be used as traditional wreaths for doors and walls.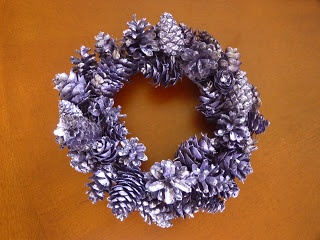 Deep Purple Shimmer wreath in 9″ size
I will be making these available for sale as well. The colors will be Champagne Shimmer, shown above, Pearl Shimmer, Silver Shimmer and Deep Purple Shimmer.
16″ round x 4″ deep will be $79.99 plus shipping
9″ round x 3″ deep will be $29.99 plus shipping
Please email or call me if you are interested in purchasing a shimmer wreath. kkimbro49@yahoo.com or (970) 255-1312 Thanks and have a great day!