Winter in the Garden
With all of the hustle and bustle of the holidays around us, now might be a good time to go outside and take in the peace and serenity of our winter gardens. With our recent snowfall, everything looks beautiful.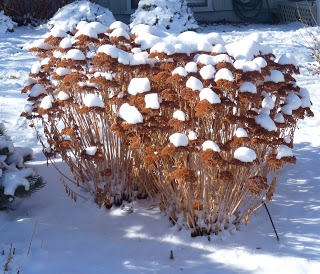 Upright sedum with snow caps!
Garden art in the winter.
It's easy to have winter interest in your landscape with a little planning. Now is a good time to visit gardens around town and note what you like and what looks great this time of year. It could be an assortment of vibrant evergreens, seed heads from grasses and perennials, colorful rose hips or interesting garden art that stands out more this time of year.
Some standout examples of colorful fruits are crabapple and hawthorn trees with their bright red fruits, fiery orange berries of the firethorn bushes and multi-colored hips on our roses.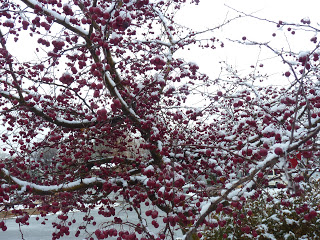 Crabapple fruits dusted with snow.
There are other things you should be thinking about while you walk around your garden. Be sure the leaves are removed from around your shrubs. Insects and diseases overwinter here and will reek havoc next spring and summer. Turn and water your compost pile. Even though its really cold outside, there is still thermal activity in your existing compost. Winter watering of your landscape is essential in our climate. We don't usually get enough water to keep the roots of the plants hydrated and healthy over the winter. The result will be scorch on leaves of trees and shrubs next June and July.
Winter is a peaceful and beautiful time in the garden. Be sure to get out and enjoy it and be thankful this holiday season for all of the joy it brings you all year long.
I sincerely hope you have a wonderful holiday season and hope it is spent with family and friends.
Merry Christmas and Happy New Year!