I have been very lucky in recent years to channel my love for gardening and Master Gardener experience into my own garden design business. I truly enjoy what I do and hope I can continue to empower homeowners to become better gardeners and create their own beautiful landscapes. I have also enjoyed giving talks and presentations to people all over the Valley on landscaping with lavender and general garden advice. So far this year, I have scheduled talks at the Western Colorado Botanical Gardens in April and the Mesa County Public library in Grand Junction and Palisade in June.

Now, I have another outlet to share my love of gardening and teach people how to create beautiful water-wise and sustainable gardens in Western Colorado. Starting in April, I will be hosting the new garden column in the Beacon Senior newspaper called GardenSmarts.

I will answer questions submitted by readers each month, give a checklist of things to do in the garden and feature plants that thrive in our Western Colorado high desert climate.

If you would like to submit a garden question, please send it to Beacon@PendantPublishing.com or you can submit questions in writing to The Beacon Senior Newspaper – PO Box 3895, Grand Junction, CO 81502.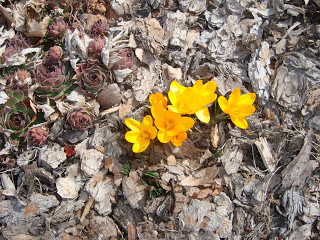 First crocus of the Spring!
I look forward to hearing from you and answering those tough garden questions. Would you care to guess what my April featured plant is? Here are a few clues. It blooms in April and May, its not a spring bulb but is a great companion plant for daffodils and tulips. Good luck.

Happy Spring!