I'm going to let you in on a secret of mine. I have always wanted to have my yard showcased on a local garden tour. Having loads of people come through and appreciate the endless hours of weeding, planting, pruning, deadheading in addition to my creative selection and placement of plants would be so gratifying and enjoyable. I would be basking in the glory of this great accomplishment for years afterwards. Ahhhhh….
Now, for a taste of reality. As I walk through my garden, I tend to focus on the negative points like weeds, dead shrubs and perennials that I need to replace, weeds, tired looking mulch, cracked cement patio, and more weeds. I think you get the picture. However, I need to start appreciating what I call my "Pockets of Greatness". There are times of the year in a certain light, and at a certain angle that my yard looks great. If you visit my Garden Scentsations facebook page, you'll notice I use photos of these Pockets for my cover photos. I usually change them to reflect my garden through the seasons. Right now, my cover photo is Mojave sage in full bloom with a groundcover of the beautiful Prairie Zinnia shining its little heart out. These are two of my favorite perennials because of their long bloom time and brilliant colors.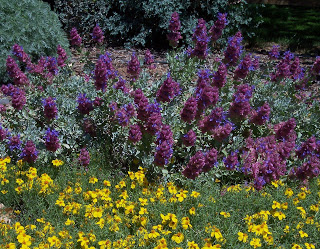 What you don't see is the bindweed working its way through the zinnias. Or the pine scale on the nearby 'Arnold's Sentinel' scotch pine.
Other notable Pockets are this lovely shot in late May. The California poppies put on quite a show with the 'Knock Out' rose, peonies and Jupiters Beard. This was taken a few years ago. Today's reality is the rose is 75% dead, the entire planting bed is filled with bermuda grass and the peonies are ravaged by black vine weevils. I am currently in the process of removing everything in this bed except the honeylocust and Russian hawthorn trees so I can effectively get rid of the darn bermuda grass.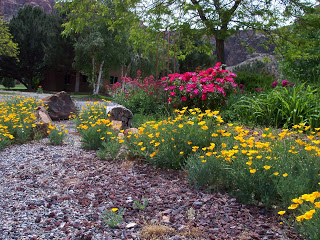 I am learning to love my POG's because in the end, my yard is for my enjoyment and satisfaction only. My world won't end if no one else sees it or appreciates it. My husband sees the POG's and appreciates them and never mentions the weeds. My rambunctious dog loves the soft green grass and shade of the ever-growing trees. I have plenty of projects to do around my yard that will keep me busy for years to come and that is the best mental therapy I can think of.
By the way, the Western Colorado Botanic Garden's garden tour has moved to August 24-25th instead of the usual first Saturday in June. I am looking forward to seeing other people's lovely gardens and get ideas to inspire more POG's for my garden.