This is a picture of my nepeta x faassenii 'Walker's Low' in the middle of pruning it back on June 11th. The center of the plant completely flopped open and the stems were only blooming at the ends. So I did what had to be done. I cut the stems off to about 5 inches from the crown. This is a 10 year old catmint so the crown is very dense.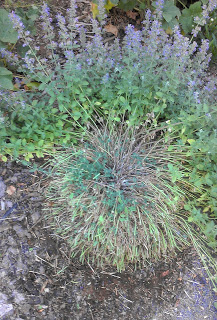 Catmint getting a haircut.
So here is that same catmint today, July 7th. Full of fresh, shorter stems with lots of new flowers. I do this every year around the beginning of June to rejuvenate this plant. They can get so tired looking and I would hate to have it look this way throughout the rest of the season.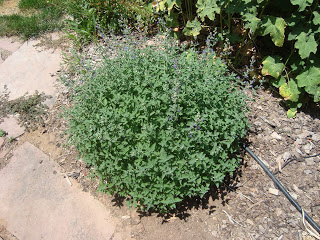 Fresh and pretty catmint
I plan on doing the same thing to my Salvia 'Mainacht' or 'May Night'. They will also rebloom after a bit of pruning back. This clump of salvia started with three small plants. There are probably 20 plants there now after 5 years or so. If you want a few of these plants, email me. I'd love to share!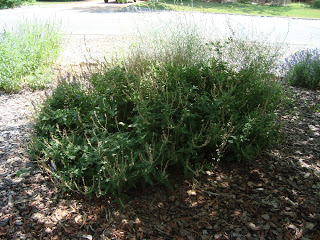 Large blob of May Night salvias