Back in the day, I lived in the super-large, super-humid, super-congested city of Houston, Texas. I'm am so glad I live in Colorado now but I don't regret living in Houston as I met my wonderful husband of nearly 30 years in Houston and married him there. We moved to Denver from Houston and then to Dallas before we moved back to Denver and then finally to Grand Junction. I know its confusing but corporate transfers have a way of taking you places you wouldn't have thought about on your own. And on a timetable that usually isn't of your choice. We made the best of it and had beautiful homes everywhere we lived. Since I have always enjoyed gardening, I learned to garden in vastly different environments. You can't get any more different than Houston and Grand Junction!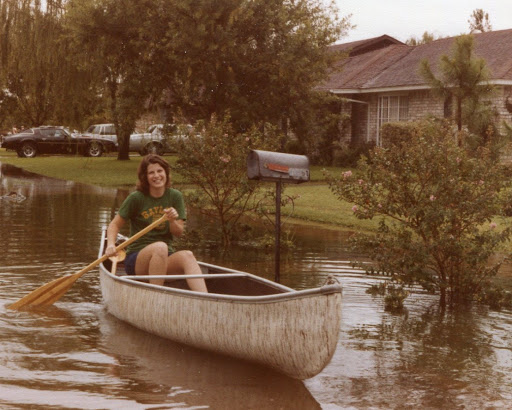 Kathy canoeing by crepe myrtles in front of our Houston house after Hurricane Alicia in 1983.
While living in Houston I fell in love again. This time with the crepe myrtle or Lagerstroemia. Everywhere you went, there they were. Lining the streets, adorning front yards, commercial spaces, everywhere. The hot pink, bright red, soft pink and white blossoms stood proud and tall no matter how stinking hot and humid it was. They bloomed when every other plant had call it quits for the season. The exfoliating bark and seed pods just added more interest year round.
So, a few years back, much to my astonishment, I saw a crepe myrtle for sale at Meadowlark Gardens on the Redlands. How could that be I wondered? They would never survive our cold winters or would they? Turns out, a plant breeder created a crepe myrtle that would grow well in areas with winters as cold as -10 below zero degrees. They have American Indian names like Zuni, Hopi, and Miami and come in a wide variety of colors. Naturally, I bought the hot pink one – Zuni.
Crepe Myrtle 'Zuni' in July 2008
Growing against our house facing the scorching southwest sun, it bloomed its little head off for several years. That is until that brutal winter of 2010-2011. I can't begin to list how many established shrubs and perennials I lost that winter. My beloved Zuni was one of them. I tried to hold out hope for some sign of life in the following spring but nothing. Then, in late summer, just a sprig or two came up. I felt like it was never going to come back so I dug it out. I dug about 2′ deep and got out what I thought was all of the roots.
A summer came and went with no signs of life from Zuni. Then something amazing happened. This spring, more than just a sprout came up. Many sprouts with bright green leaves. Could my Zuni have come back from the dead? I had to know what was left of my beloved crepe myrtle so I watered a little extra, fertilized a little extra and talked to it every time I reached for the hose on the back of the house. Sure enough, this tough plant came back. I was very content to have the bright green leaves add some color and texture to the back of my herb garden. But then, it developed flower buds! OMG is all I could think!
My crepe myrtle returned from the dead in August 2013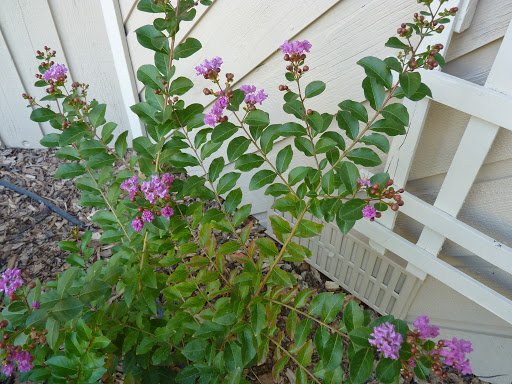 Look at those hot pink blossoms!
Bright green leaves and hot pink blossoms next to Bergartten sage
How on earth did this shrub survive after all of this time? I have no idea. But I have stopped doubting the power of plants. They perform miracles all the time. I am just blessed it happened in my yard this summer. Keep looking for miracles. They are all around us.