On February 18, 19 and 20, 2011 attended the 4th Southwest Lavender Conference in Kerrville, Texas on behalf of CSU Extension Tri-River Area and the on-going Lavender Project headed up by Dr. Curtis Swift.  This was a very productive conference with approximately 80 people in attendance hailing from such far-flung locales as Brazil, Puerto Rico, New Jersey, Maryland, Nebraska, Kansas, Idaho, Oregon, Washington, New Mexico and Arizona.
 The conference, which was organized by Cathy Slaughter and sponsored by the Texas Lavender Association, took place in the historic YO Ranch Resort Hotel in Kerrville, Texas.  It is a destination for exotic game hunting expeditions in addition to being a tourist attraction in its own right.   Kerrville is located in the beautiful, rugged hills of the Texas Hill Country west of San Antonio.
The conference began on Friday February 18th with the annual Texas Lavender Association members meeting.  Chelita Riley, the TLA President, gave some interesting statistics about the lavender industry in Texas.  The average lavender farm in Texas has 2,500 plants on 3-5 acres.  The largest lavender farm has 3,500 plants on 1 ½ acres.  Texas lavender farmers are very interested in developing the culinary market by focusing on presenting workshops at food and wine festivals and creating a Lavender Trail.  They received grant money from the Texas Dept of Agriculture to help them accomplish these goals.  They expressed interest in the Lavender Association of Western Colorado holding the next Southwest Lavender Conference in 2012 and feel they may be able to use the rest of their grant monies to help offset our costs.
Curtis Beus of Washington State University was at the meeting and he shared some insights into the lavender industry in Sequim, Washington.  He pointed out there are approximately 35 lavender farms in the Sequim, WA area with the largest one at 15 acres.  Purple Haze lavender farm is approximately 12-15 acres and Angel Farm is 5 acres.  The lavender association in Sequim has recently split into two separate groups.   Apparently, the large farms felt they did not share the same goals as the small farms so they went their separate ways.  They will be holding two lavender festivals in Sequim on the same weekend this year.  Should be interesting!
After lunch, Curtis Beus of WSU Extension, talked about how to start or expand your lavender farm.  He has been instrumental in developing lavender farms in Sequim Washington for the last 15 years.
I attended the culinary demonstration by Kathy Gehrt.  Kathy has published a lavender cookbook titled "Discover Cooking with Lavender "and she demonstrated a few of those recipes including a Chicken Pilaf and lavender mango salsa.
Of course we had to sample the dishes while we were discussing other ways to cook with lavender.   Kathy likes to use Lavandula angustifolia 'Buena Vista' for cooking because of its milder taste and light blue color.  She also freezes dried lavender buds to keep them fresh tasting all year long.
Kathy told us how to make a delicious topping for ice cream.  Combine Bing cherries, butter and brown sugar.  Cook over low heat until bubbling.  Sprinkle dried lavender buds in sauce and serve over ice cream.  Yummy!
Kathy also told us that there is a growing interest in cooking with lavender and she often gives classes demonstrating the many ways to use lavender in recipes.  She feels this is a great way to increase awareness about lavender thus increasing the market for lavender products.
The next demonstration was by Peggy Armstrong, owner of Valley View Lavender Farm in Buehl, Idaho.  She brought her de-budding machine to demonstrate how much time and labor can be saved using this mechanical wonder.  She would not allow photographs or sketches as she wants to sell the rights to the machine.  We all had a chance to try our hand at de-budding dried lavender bundles.  She said this machine can de-bud 700 bundles in one day.  This was figured with one person de-budding two bundles at a time.  According to the Lavender Professionals' Facebook page, Peggy is now ready to sell her machine.  The cost will be approximately $3,000.00
Saturday was filled with topics on two distinct tracks.  One targeted growers, the other track featured marketing and business ideas.  I chose the marketing track and came away with some really great ideas for our lavender industry.
Christine Teeple and her husband Michael are the owners of Red Rocks Lavender in Concho, Arizona.    www.redrockslavender.com   Red Rocks Lavender is located in the west central part of Arizona and sits at 6,273 feet in elevation. They are 210 miles from Phoenix and 220 miles from Albuquerque.   They grow 12 different varieties of lavender with a total of 45,000 plants in the ground on 130 acres. They hold their own lavender festival over two weekends at the end of June and beginning of July.   Christine said 75 % of their total sales each year occur during their festival and another 15-20% of sales are generated through their website.
Christine gave a great presentation on Value-Added Products.  She went over the principles of:
Product Development
Understand the process of bringing a new product to market
Branding
Overview of importance of branding and the steps in brand development
Marketing your product
Learn the various methods of promoting and selling your products

 
I have attached her entire presentation handout for easy reference.  Christine also offered thoughts on market trends.
The largest segment of the population that buys lavender products and visits lavender related events are baby boomers – men and women over the age of 50.
The new luxury is authentic products – no artificial colors or fragrances, no fillers
Green practices are noticed and appreciated –  Buying local products, less packaging, refillable containers if possible.
Think global and buy local – Its good for local economy
Sets of products sell very well and because of airline luggage restrictions, travel sized products also sell very well.

 
Christine attends trade shows like the Fancy Foods trade show in San Francisco and the I Spa trade show for her market research.  She also talked about the importance creating a great agritourism experience at your farm and telling your "story".  Why did you start growing lavender?  What makes lavender so special to you?  What is your background, how did you develop your farm, etc.  People want to feel connected to the growers and the products they ultimately buy.
Hollie Mulhaupt, CEO of MicroBio Cosmetic Laboratories and Texas Natural Supply (www.texasnaturalsupply.com)   talked about Making Lavender a Business from labeling to distribution.
When starting out, create one product.  Do it right, make money and then branch out to other products.    
This was Hollie's first bit of wisdom for newcomers in the lavender business. Then she asked us if we are in the lavender business to make a profit or for a hobby.  We all thought we were in it for profit but she made some interesting points that made some wonder.  She said if you are serious about growing your business and marketing your lavender products successfully, you should consider how you treat your business and the way you think about it.
For instance, when you prepare dinner, you often pull out a favorite recipe to follow.  Two chicken breasts, one cup of this, 2 teaspoons of that.  Mix them all together, bake at 400 degrees and viola!  Dinner is on the table.
When you prepare hand lotions, lip balm or salt scrubs, are you using your favorite recipes for these as well?  If you are serious about your lavender business, these recipes should be referred to as formulas.  You should also re-work your formulas into weights such as ounces and liters instead of dry measures like tablespoons and cups.  When your volume becomes large enough to have a manufacturer produce your products, the formulas will need to be in weights.
Labels sell your product – not the product or container.
Choosing your labels and containers is one of the most important things you will do in creating products.  Cylindrical containers are the best choice for beginners because it is easier to apply labels to them and good labels are readily available for this shape.
Choosing a Manufacturer
Manufacturing Guidelines
100,000 pieces or more is a large order
10,000-100,000 pieces is a medium order
1,000 – 10,000 pieces is small order
1,000 pieces or less is very small order
The manufacturer you choose to work with should be located in the United States but does not need to be local.  Once you have thoroughly vetted the company, you should only have to visit their operation one time.  That would be before you place your initial order so you can see first hand how they operate.
You want to be sure they value the safekeeping and confidentiality of your products and proprietary information.  When visiting the manufacturer, check to see if anyone can walk into where the products are being made or are there locked doors or secure areas.  Are formulas out in the open for anyone to read?
Turnaround time depends on the products being made.  A lot depends on if they have all of the raw materials on hand to produce the product.
Another consideration is storage capabilities.  If you are producing several thousand pieces of product, do you have a place to safely store it?  With creams, lotions and soaps heat and sunlight would destroy your products.  You may need an air conditioned space to hold these items.  Some manufacturers have storage facilities as well as fulfillment capabilities. 
James Buratti of Texas State University enlightened us on the business of marketing your business electronically.  JB63@txstate.edu  (512) 560-3865
You need a website.  Plain and simple.  It adds credibility to your company and makes you look professional.
Social media tools – we've all heard about them.  Some of us use them to connect with friends and family.  We should also be using them to connect with our customers.  They're free and readily available and very effective with most demographic groups.
Your computer isn't the only way to access these tools today.  Smart phones can do just about everything your computer can.  You can update your pages while you're out and see what your customers are saying about your store or products.  In 2011, 50% of the cell phones sold will be Smart phones.
 Facebook – 
There are more pictures on Facebook than anywhere else on the internet.  700,000 local businesses (not including big nationwide companies) are on Facebook.
Here are a few facts about the Facebook user:
The age group 55+ grew 922.7% in 2009!
55% of the users are female
30% earn $60-100,000 per year; 32% earn $100,000+
Promote your Facebook page on your website.  Give special deals and discounts to people who "like" you on Facebook.  Focused ads on Facebook are cheaper than Google ads.
Twitter –
Text tweets are 140 characters long.  There are currently 175 million users worldwide.  Tweets are useful to promote new products, special deals, announce new hours or location and send invitations to special events.
Twitter user facts:
45% are 18-34 years old; 24% are 35-49; 14% are 50+
28% earn $60-100,000 per year;  30% earn $100,000+
You Tube – 
The average video on You Tube is 1 – 4 minutes long.  Educational videos, such as how to make a lavender wreath, have a long life.  Flip Cameras are an easy way to make short videos.  Software programs are available to edit your videos.
2 Billion (yes, that's with a B) videos are watched every day
Every 2 minutes, 24 hours of video is uploaded
3rd most visited site on the Internet

 
Yelp – 
This is a location based user review site of almost anything.  Stores, products, restaurants, etc. 
This social media site is very popular with Smart phone users and travelers.  Users can post reviews and quick tips on anything they want.  They can post pictures and "check-in" which just means they are announcing they are at a certain location.
Everything is rated 1-5.  Owners can reply to the posts.  This can be very good for people who have a retail location or a farm open to the public.  At the very least, you can see what people are saying about your place.
Users tend to be more educated and affluent than users of other social media sites and 55% of the users are female.
James also recommends using blogs to reach out and communicate with your customers.  WordPress and Blogspot are two of the most popular blogging sites.  Both are free as well.
Saturday afternoon there was a lavender distillation demonstration by Mitchell Stephens of M & J Lavender Farm.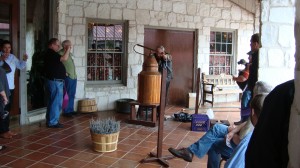 This still has a 30 gallon tank.  He was distilling dried l. x intermedia 'Provence'.  He used 4 gallons of water total.  The whole process took about two hours to produce the essential oil and hydrosols.
I attended a panel discussion on Farmers Markets, and Festivals.  Two of the speakers, Peggy Armstrong and Christine Teeple have many years of experience on this and they shared their experiences with the attendees.
Christine Teeple, Red Rocks Farm in Concho Arizona have their own festival every year at the end of June.  They are a good distance from any major town.  Advertising is key to attracting people to make the long drive.  She recommended radio, free articles in the newspaper and free community connection ads on television.  She makes sure to let people know how to get there with a good map and where the closest lodging is to their farm.  (40 miles away in Show Low).
Peggy Armstrong, Valley View Lavender Farm, Buehl, Idaho also had her own festival every year.  Her husband has since passed away and she is in the process of selling her lavender farm.  The first festival was one day with 300 people attending.  Last year, approximately 3,000 came over a two day festival.  She budgeted $3-4,000 for advertising because her farm is nowhere near a major city unless you count Boise. J
Both Christine and Peggy said the major demographic was baby boomers.  It is worthwhile to build a database of customers to keep in touch with and they both recommended Constant Contact.
The last session of the day was a panel discussion on the future of lavender.  Problem solving and success stories.
Here are some random thoughts and bits of wisdom from the speakers on this panel.
Lavender is a tourist impulse buy.  Locals don't buy it as much.
Combine events to attract more people.  In Johnson City, they have a lavender tour for the ladies and a wild game hunt for the men with a dinner for everyone in the evening.
Area chambers and counties could pool resources to fund a Lavender Trail
Sequim raises $8-10,000 for the heads and beds tax (hotel occupancy tax) during festival
One grower gives lavender to local brewing company to make lavender beer.  She thinks this brings more awareness to the lavender industry.
Going through the process of starting a lavender business is important.  Learning from mistakes is valuable.
Most of the panel members did not have a business plan.  They just started planting lavender and hoped a market would develop.
Telling your story is as important as the products you sell.
Sunday was a guided bus tour through the Texas Hill Country.  We visited the Bella Vista Winery, an olive and specialty food crops farm and had lunch at Mendola's Tatorria.
 The afternoon was spent visiting M & J Lavender farm and a wine tasting at Becker Vineyard.  Notice at M & J Lavender Farm there is no weed barrier.  I asked the owners how they handle the weeds.  The mow and use a string trimmer in the rows and hand pull around the lavender plants.  They said because of the severe drought for the last 4 years or so, the weeds aren't as bad as they might otherwise be.  The drought has also stunted the growth of the lavender plants.  They have drip irrigation but frequently run out of water to use on their fields.
In closing, the 3 day conference was full of interesting ideas from people who are very experienced in their respective fields.  I met many lavender growers who share my enthusiasm for the industry and the potential for long term growth and profits.  As one grower said "The lavender industry is where grapes and vineyards were 20 years ago in the United States."
Thank you,
Kathy Kimbrough
Advanced Master Gardener