On April 27 through 30, 2012, I attended the 2012 International Lavender Conference in Sequim, Washington.  I was accompanied by several master gardeners, lavender growers and Dr. Curtis Swift.  The first day of the conference was a self-guided tour of area lavender farms.  The weather was very similar to the first lavender conference I attended in Sequim back in October of 2008 – wet, cloudy and cold.  I'm sure the suns shines in this part of the world but I couldn't swear to it.
When visiting the lavender farms in Sequim, it is useful to note that these farms have been growing lavender for 12-15 years.  Lavender plants at this age are at the end of their useful life and will need to be replaced to get full production again.  Some of the farmers are replanting, some are reconsidering being a lavender farmer at all.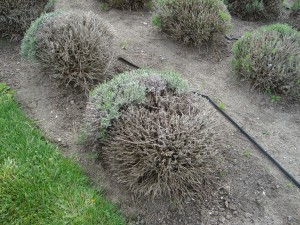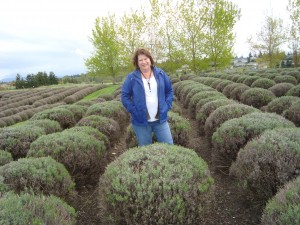 Older plants at Jardin du Soleil lavender farm.
The first farm we visited was Jardin du Soleil.  This farm has been growing lavender for approximately 12-14 years.  The plants pictured above were clearly at the end of their useful life cycle.  Many of the older plants were being pulled and replaced with new plants and different varieties.
One of the most useful lessons I learned from touring these very well established lavender farms is how they are set up for agri-tourism.  Their lavender fields have plenty of space between the rows of plants for visitors to walk amongst the plants.  They all have beautiful gift shops and plant displays like the picture shown above.
Dr. Timothy Upson of Cambridge University Botanic Garden and co-author of The Genus Lavandula, was the keynote speaker for the evening presentation.  He entertained the standing room only ballroom with stories of researching lavender across the world.
The second day of the conference was filled with workshops in three different tracts.  I started the day listening to the Lavender Events and Festivals workshop put on by Scott Nagel.  He is the executive director of the Sequim Lavender Farmers Association and produces the Sequim Lavender festival every year.  He emphasized shopping other successful festivals to learn from their successes and mistakes.  Working with local officials on permits and taxes a large part of the pre-event process.   Partnering with other non-profits on the same weekend can bring in more visitors to your event.  Prepare a business plan for the festival.  Look at several different ways to make money – vendor fees, parking or admission fees, workshop or crafts fees, etc.  It was very interesting to hear Scott talk about all of the minutia of lavender festival planning.  We have had two festivals already and seem to be doing most things the right way.
Next up was Sarah Bader, owner of Lavender at Stonegate in Lynn, Oregon.  She was our featured speaker at our first Lavender festival in July of 2011 so I know her very well.  She spoke about how she found her path in the lavender business first by trying to sell lots of different value-added products.  She eventually found her niche with wholesale plant sales.  She has been very helpful to lavender growers across the country by helping them determine which varieties of lavender plants are best for them.  Sarah talked at length about her customer favorites, best new lavender varieties and specific colors that are now available.
Victor Gonzales, owner of Victor's Lavender in Sequim, Washington, is a legend among lavender growers across the country.  He started researching and trying new growing and propagating methods with Dr. Curtis Beus in the early days of the Sequim lavender industry.  He now grows and sells his own lavender plants along with lavender farming consultations.  His talk on propagating and growing lavender was geared towards beginning lavender farmers.
Some of Victor's tips for growing lavender included replacing the nutrients in soil on regular basis to keep from depleting soils.  Fertilize with nitrogen at 90 pounds per acre.  Split application between spring and right after first bloom.  Light colored soils may increase oil production and light colored weed fabric may increase flower production but slows down soil warm up in the spring.
Kathy Gehrt, a well known and respected cookbook author shared her vision of how to turn your lavender farm into a tourist destination.  She focused on five farms from across the globe and their successes.  The farms are located in Hawaii, Tasmania, Virginia, Texas and Naramata (British Columbia, Canada).  Kathy taught us to look for success indicators:
Diversity – Leads to sustainability
Passion – Brings energy and joy
Story – Tell it with flair and make yourself the hero
Place – Another character in the story
Community – Be an active member.  Cultivate relationships
Marketing – Beg, borrow and steal 
Taking the agri-tourism theme to the next level was Curtis Beus.  His presentation was Agri-tourism: Making Small farming work.  Again, the Sequim lavender farmers have this aspect of the lavender industry down pat.  Curtis has been involved with the creation of the lavender industry here and has written many articles on how to increase the profits of small lavender farms through agri-tourism.  He talked about how the farms must be accessible to many types of visitors.  The farms should be able to handle everything from wheelchairs to large motor coaches.  There should be good signage throughout the farm to explain what the visitors are looking for.  Most importantly, the owner should be available to tell their "story."  Everyone wants to know how the farm started, what was the inspiration, etc.  It is a large part of the lavender farm visit experience.
Sunday morning as spent visiting more lavender farms and learning from their various workshops.  The first farm was Angel Farm.  I first visited this farm back in 2008 and reported on their amazing lavender bud cleaner – the Jitterbud.  Since my last visit, they have created more cleaning machines on a smaller scale.  They have a very successful side business of cleaning lavender buds of area farmers.  This was particularly interesting to me as I feel our members should find ways to service other lavender growers with cleaning and/or distilling services.
The last day of the conference, Monday, was a last minute add-on by the Sequim Lavender Growers Association.  This entire morning covered the pressing topic of the Food Modernization Act and how it affects lavender growers who produce culinary lavender products.  I was asked to stay at the conference and report on the discussions and see how it might apply to our growers.
Kim Hoffman, Food Safety officer with Washington State Dept of Ag said spices are considered "food."  Drying and de-budding culinary lavender and packaging is exempt from needing a food processor license.  Culinary bud is considered a raw product.  There is no need for a license no matter how you sell it.  However, if you use a co-packer, you will need a license.
Clea Rome – Washington State University Extension Agent talked about value added products.  Create value by emphasizing safety, convenience, freshness, healthiness.  Buying locally and regionally are perceived as healthier.  Eco-labels are popular (i.e. Organic, non-GMO, etc.).
An FDA official gave an overview of the new act via YouTube video.  There are over 50 new laws with this act.  Testing your products for purity and recordkeeping are key to staying in compliance.
Steve Ragsdale of Sunshine Lavender Farm talked about a new controversial program called Sequim Certified.  The area lavender farmers want to establish a certification program where dried lavender buds will be tested by a non interested third party lab to certify purity level.  Must be 97% clean to pass the test and tested every year.  Most people in the room were very skeptical of this program and felt it was not applicable to any grower outside of the Sequim area.
Thank you to the CSU Extension Tri-River area for sending me to this very informative conference.  I will be happy to report my findings to all master gardeners and lavender growers.