Portfolio Pictures
Below, I have listed some of the garden designs I have created over the last 10 years.   I will be adding to this portfolio from time to time so be sure to check back often.  Enjoy!
2017
This Montrose landscape remodel shows the before and after of two areas in the front yard.  Adding drought tolerant shrubs and perennials add color and texture all season long.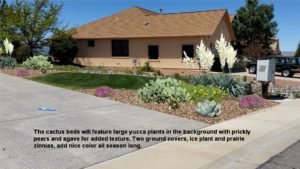 Even small spaces can use a little help sometimes.  This planting bed faces north and gets afternoon shade.  So hydrangeas, viburnum, lamium and coral bells give color all season while the maidenhair grass give motion and texture.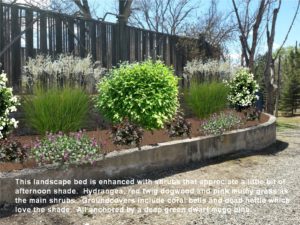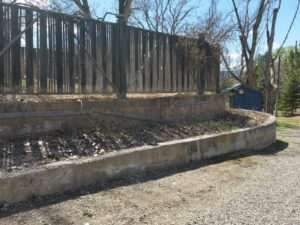 This front corner needed a jolt of curb appeal.  With full sun and low maintenance required, we added barberries, blue mist spirea, snow mound spirea and salvias to give color and interest.
This full yard remodel created a beautiful landscape the homeowners can enjoy all season long.  We also added raised vegetable beds on a sunny side of the house that was never used before.  Shade and ornamental trees along with easy care shrubs and perennials complete the landscape.
This home was new construction so we had a blank canvas to work with.  The HOA required drought tolerant plants and the homeowners had a very good idea of what they wanted.  We put it all together and it turned out wonderful.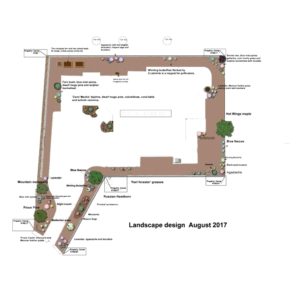 This extensive new landscape in Redlands Mesa incorporated beautiful native trees, shrubs and perennials with a stunning contemporary custom built home.  We choose plants that had an architectural vibe and structure to compliment the home while blending in with the subdivisions' landscape requirements.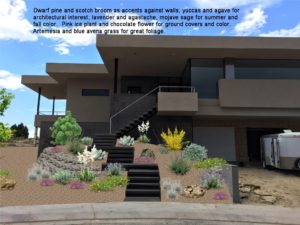 Yuccas, lavenders, brooms, agastache and grasses are just a few of the plants we chose to add curb appeal to this home.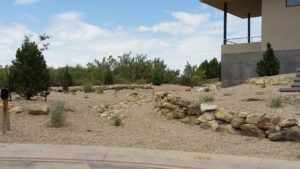 Rock retaining walls, dry stream beds and rock mulch all add to the natural look we were going for on this project.
2016
This new construction project in Clifton started as a blank slate.  Between the client, KB Concrete and T & S Landscaping, everything the client wants will be installed this year.
This Grand Junction homeowner needed an updated front yard.  T & S Landscaping did a great job of making the design come to life.
Easy additions to this Grand Junction backyard.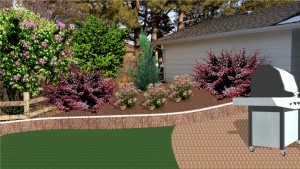 Viola!
2015
This north Grand Junction project took an overgrown landscape and brought it up to a colorful, interesting front yard and entrance. T & S Landscaping did a great job of bringing this design to fruition.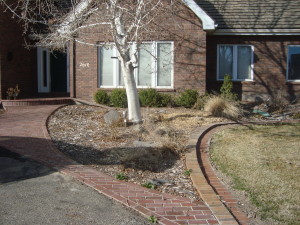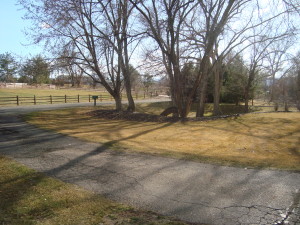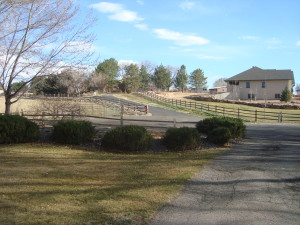 This landscape on the Redlands was overgrown and neglected.  The new owners wanted a fresh, clean look for their beautiful courtyard.
2014
This home in Fruita went from drab to fab with a bit of garden designing.  Thanks to Benson Landscaping for making it happen.
This home on the Redlands needed a backyard make-over.  We created a meditation area and built planter boxes around the patio to grow herbs and flowers.
2013
This duplex on the Redlands needed major curb appeal make-over.  With the new design installed, they are able to command more rent because of the attractive and useful landscape.
2012
This home in Olathe needed a more welcoming entry and patio.  Easy care plants with season long color did the trick.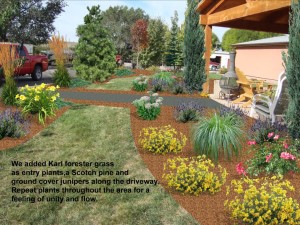 2011
This Grand Junction backyard needed more color, texture and interest to soften the impact of the large raised beds.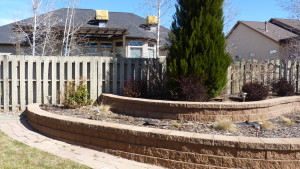 So much more color and texture in this Redlands mailbox planting bed.
2009
This client had a blank slate to work with.  I designed a xeriscape planting to blend in and enhance the natural surroundings.  The patios and walls were constructed by Johnson Landscaping.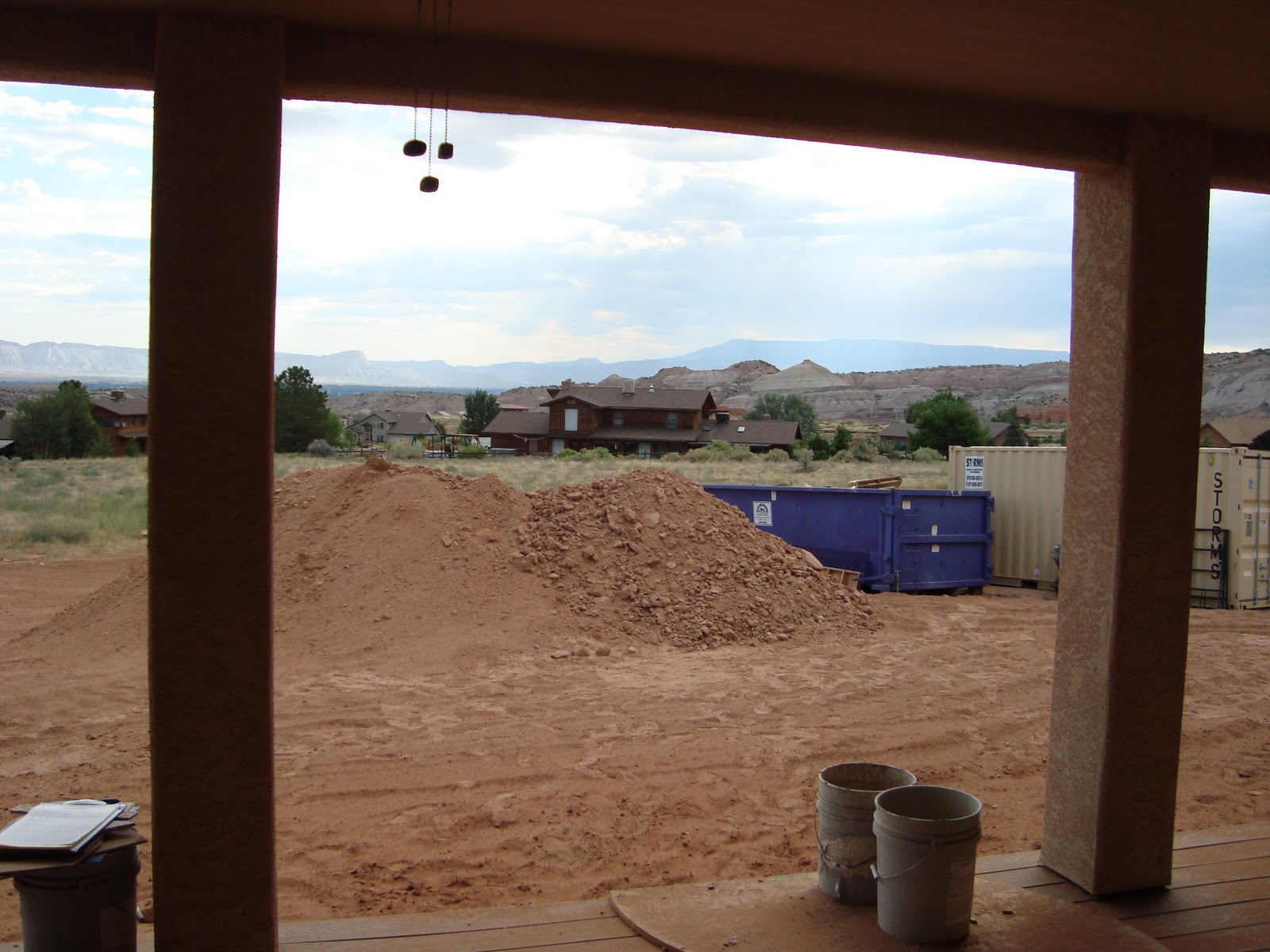 Before the huge planter wall.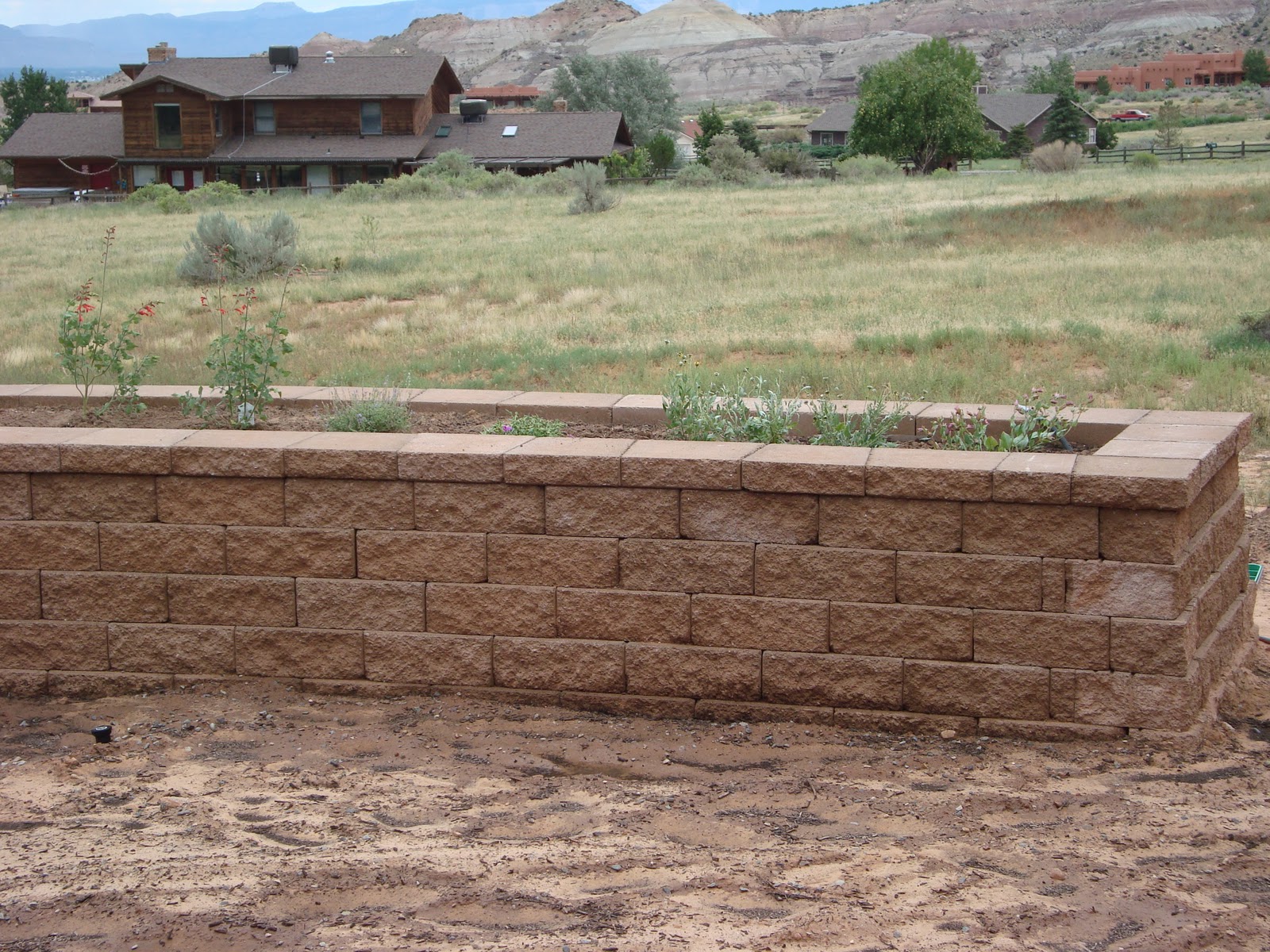 The planter wall with new plants inside.
2008
This client had the views of the valley from The Ridges but no interest in the front yard.  Now it is a pleasure to drive up to this beautiful home.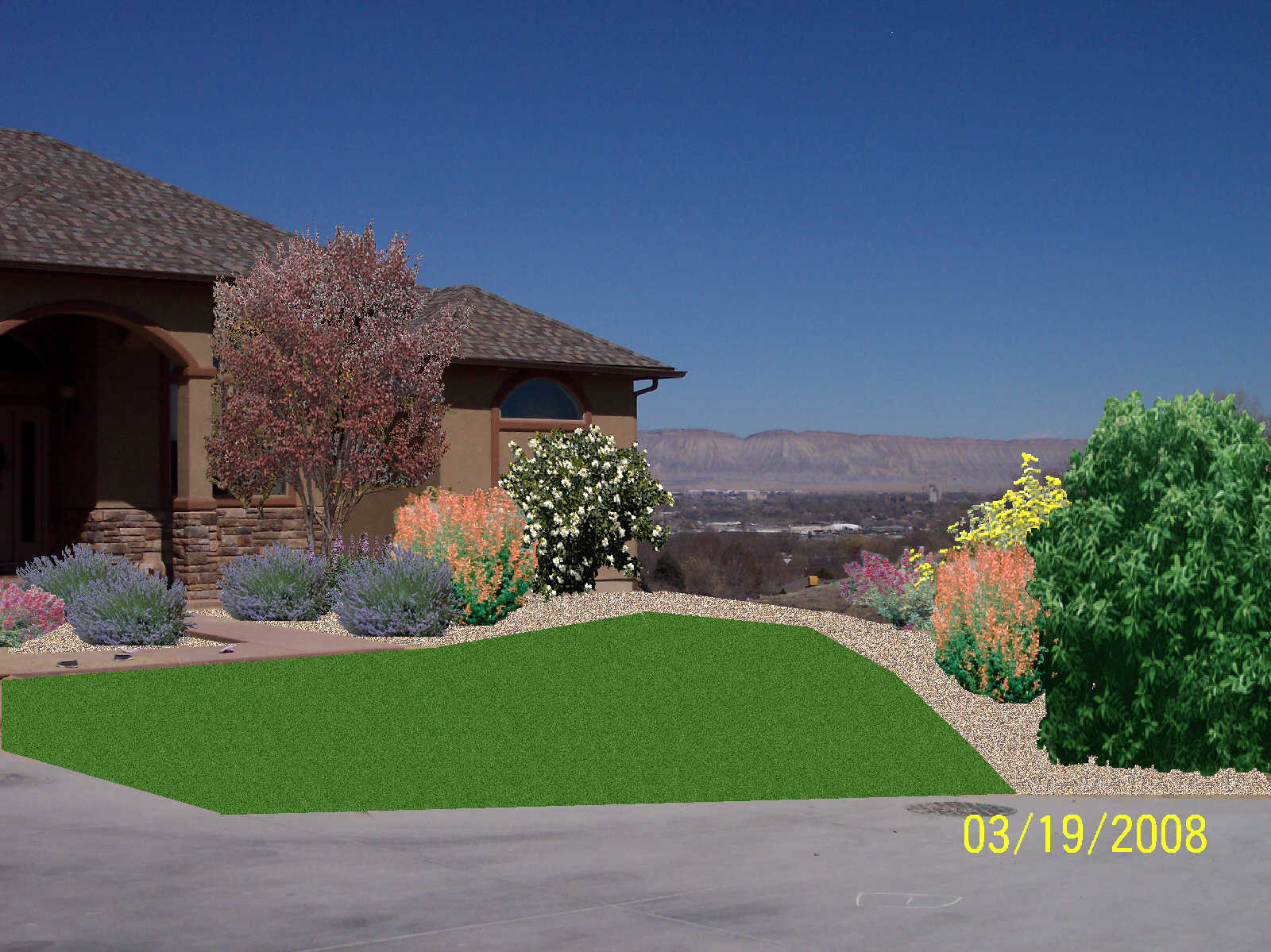 2007
I have been designing and planting the Enterprise Bldg planters in downtown Grand Junction since the Spring of 2007.  Every year we do it a little different but the result is always the same.  Stunning!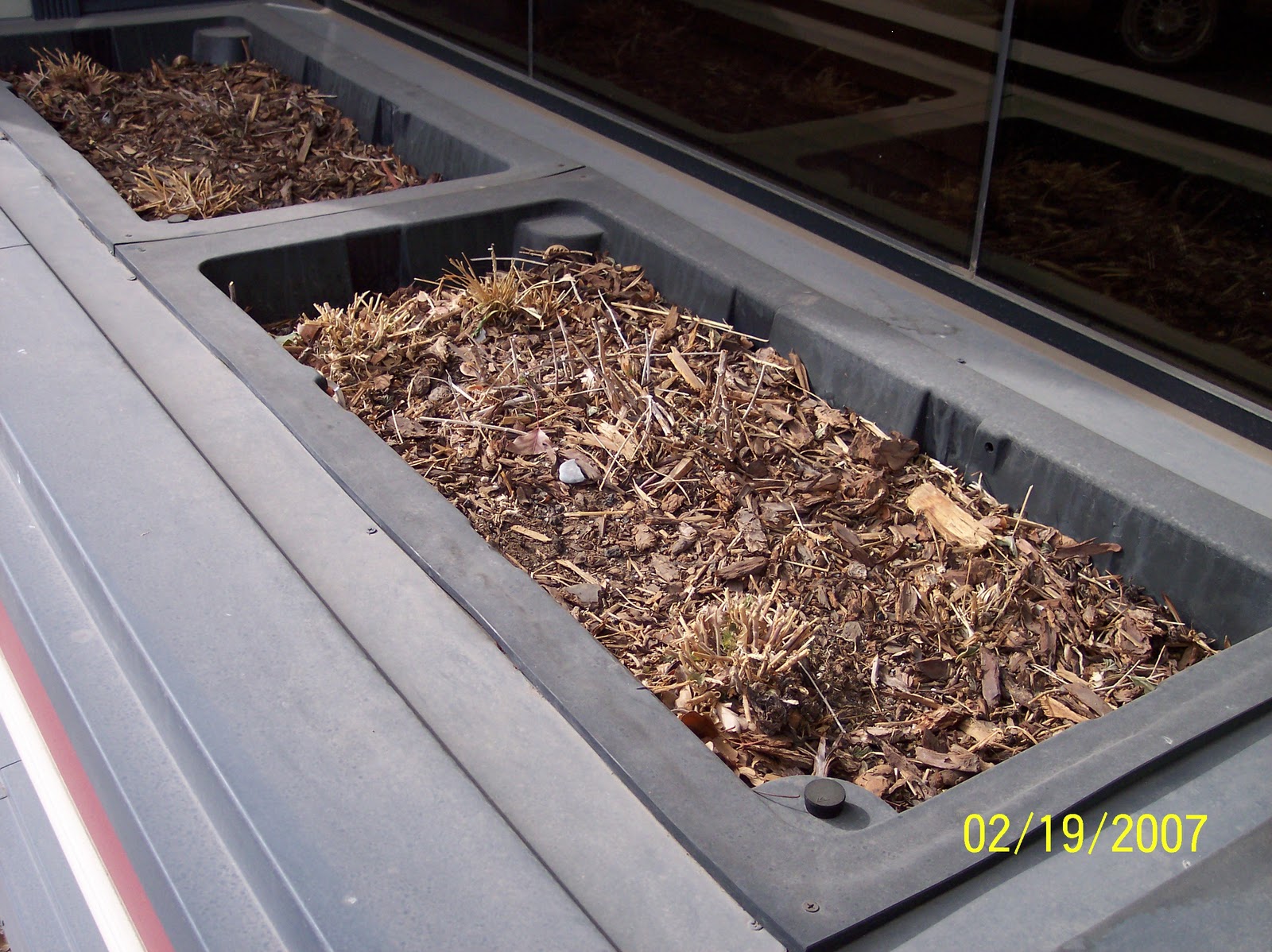 Enterprise Bldg before the design process.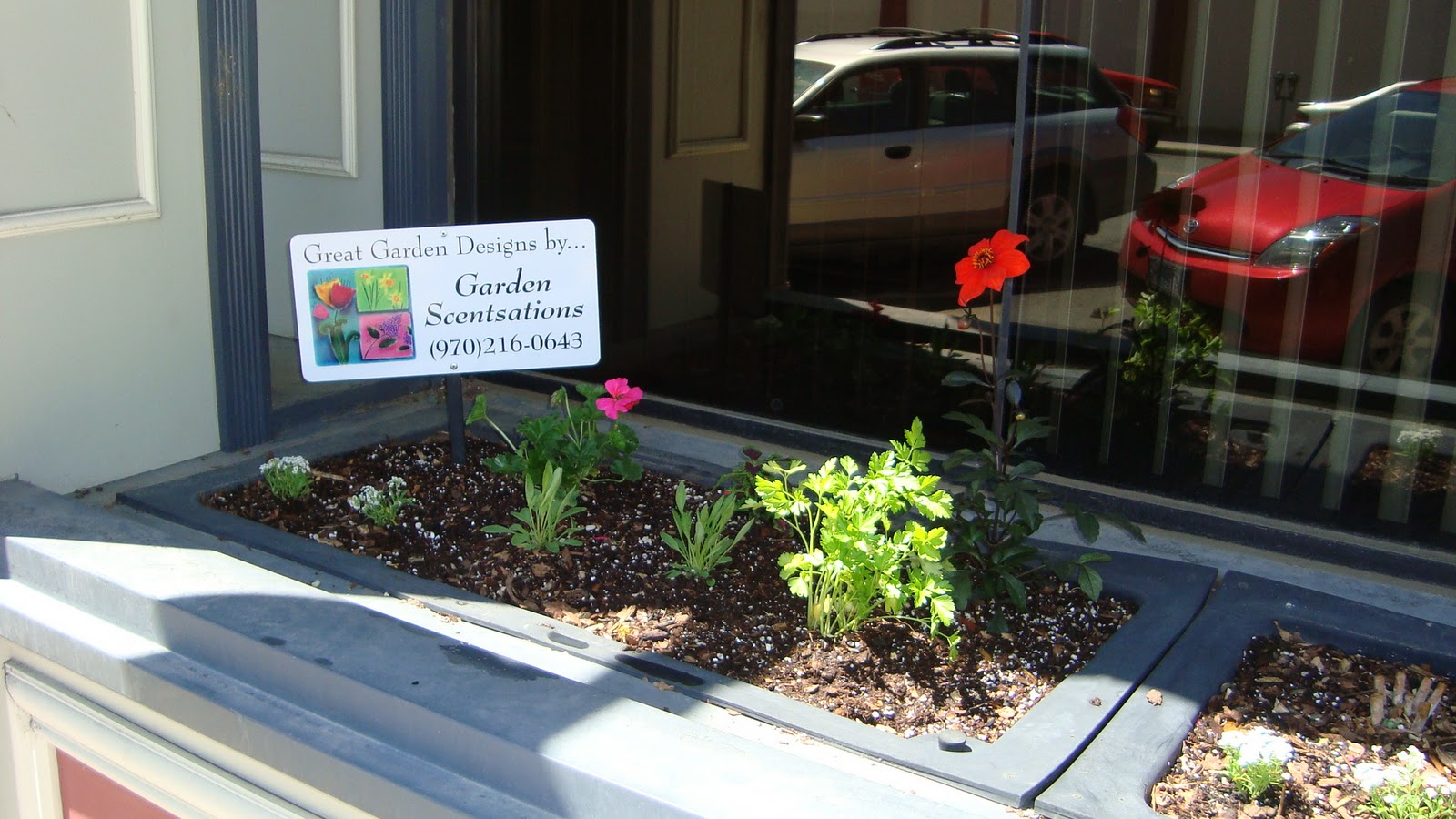 Planter boxes filled with flowers and herbs.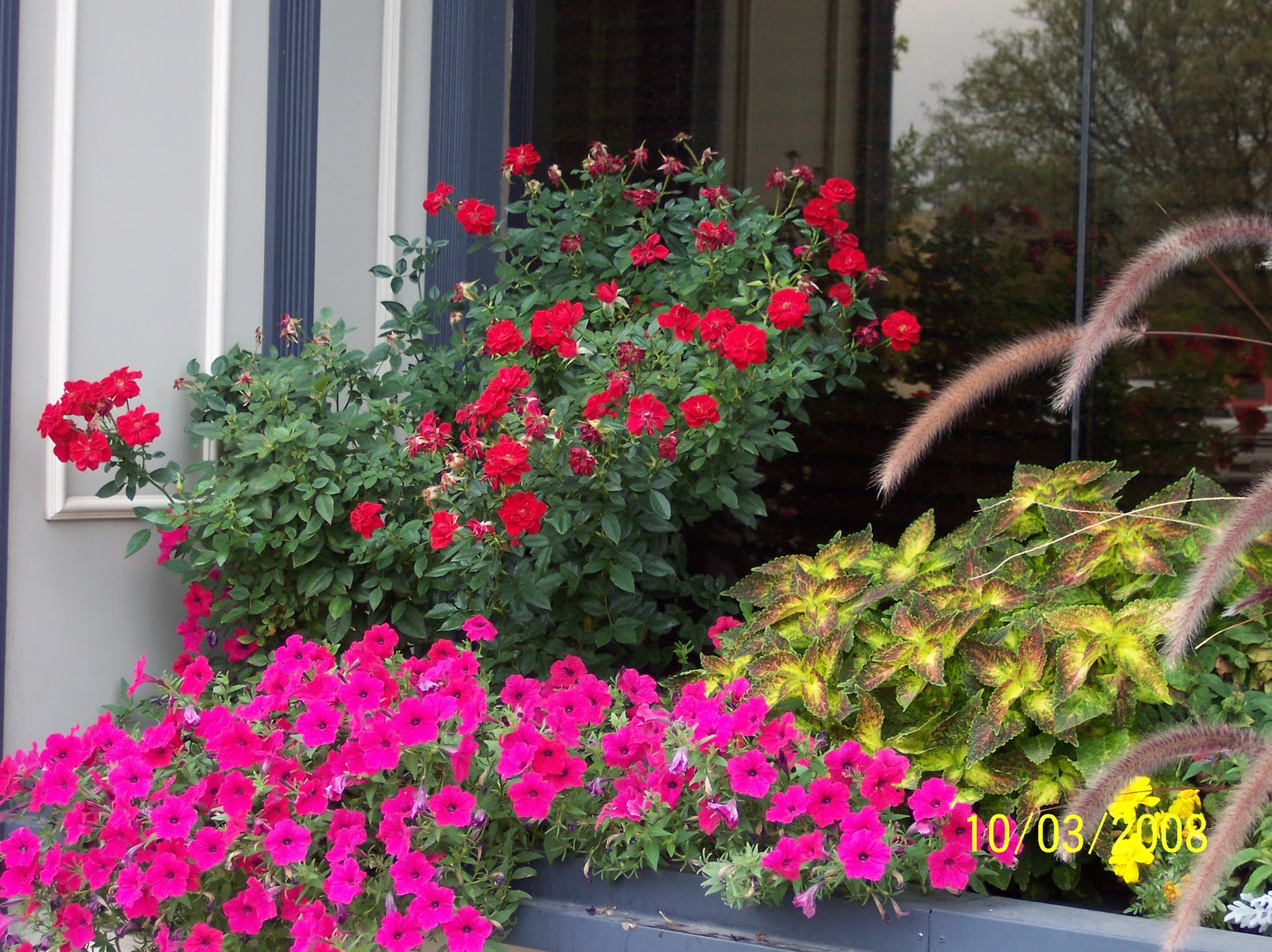 In all of its summer glory.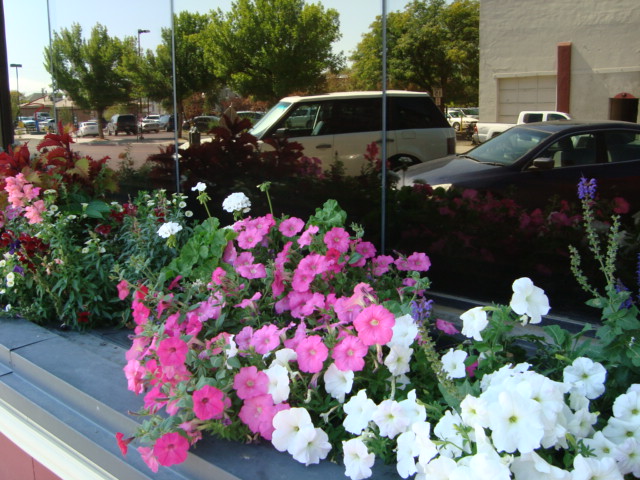 Show stopping colors and textures.
2006
The homeowner had a wagon wheel and lots of ideas.  We helped bring more flowers, shrubs and a Canada Red chokecherry tree into the space to liven it up bit.